This weekend I was saddened to learn of the passing of the Husband of someone from my hometown. Friday morning they welcomed the birth of their third child and sometime late Friday night the Husband passed suddenly - and unexpectedly. Through the miracle that is Facebook, I've been watching the family struggle to pull themselves together - one of them being a daughter, just a few short years older than my own child. Being a Daddy's girl who ALSO lost her father suddenly, it's all I can do not to cry, especially when I saw the first posting she made about her father's death.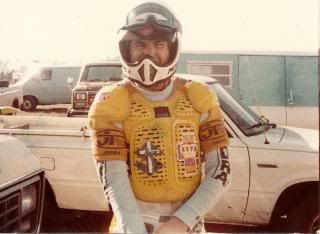 My Dad... I can hear him laughing... And I'd bet he's saying
something TOTALLY inappropriate to my mother...
My father died suddenly on October 27, 2001 of a massive heartattack - at 9:10 p.m. if we're being technical, but only I would keep track of that. It was a very sad and shocking experience that nobody saw coming.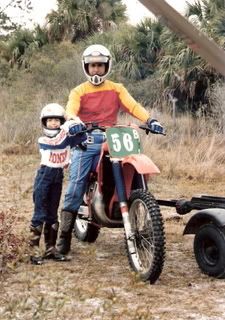 Daddy and I at the motocross races in Florida.
I don't remember too much in the days after he died. It's bits and pieces. I DO remember the phone ringing in the days after his death and I answered it. It was a girl that I went to highschool with. While we had passed each other many times in the hallway, we weren't friends, and we didn't run in the same social circles. I was an ROTC brat, and she was this beautiful blonde girl who was one of the popular girls - and to make things even better, she's half of a set of identical twins. We had a mutual friend who had passed along that my dad had died, and after hearing that she took it upon herself to call me.
Sometime in the summer her father had died. I believe he had been sick for some time, and had finally gone on to be with the Lord. This same mutual friend had also told ME about HER dad. I called my dad that night and cried. I told him that I had no idea what I'd do without him. He assured me he was still very much still here and wasn't going anywhere. Well, that might have been the only fib he's told me, come to think of it.
In this phone call to me, the only thing I can remember is that she told me that some days I would be sad, and some days I would be angry - especially when I saw people who had their daddy's, and I didn't, and it was okay to feel that. I've NEVER forgotten that phone call. It will be twelve years this year since my father left us and I STILL think of that phone call, especially when I STILL get sad, or STILL get angry when I see people who have their daddy's and I don't. I even walked out on my bff's father-daughter dance at her wedding. I couldn't bear to watch what I would never have - but like the girl on the phone said, it was OKAY to feel that, and I have an awesome BFF who totally understood.
There are other things I learned along the way, and I'm inclined to share them here:
1. To be absent from the body is to be present with the Lord - but that doesn't mean they leave your heart. My dad's still with me. I carry him in my heart every where I go.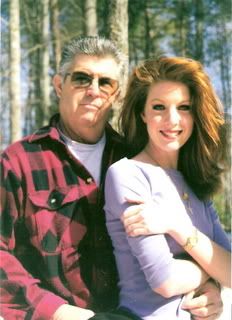 Dad and I, Fall 1999, Blairsville, Georgia.
2. When I want to talk to him - I do - and it's rarely at his headstone. My dad always said that when he died, if I wanted to talk to him, look up - and I do. He told me not to go to his grave because he wouldn't be there - and he isn't. He's in Heaven, watching over me, well, when he's not going a million miles an hour on his own personal dirt bike on God's personal motocross track. I bet he does an awesome Superman, or one amazing knack-knack now.
3. Children grieve different than their parents. My mom said this often after dad died and I thought she was heartless. I was wrong. She was grieving her partner, her other half. Her children were grown, her life was my father and making a home for him - and she lost that suddenly that night. My grief was different because I was grieving one half of my parents - but I still had one. Parents are like kidneys - you can survive just fine with one. It's not the same when you lose your partner in life. Parents are like a heart, it's pretty darn difficult to live without one whole half of your heart. For me, my life would still follow the natural flow, I would go on in life, get remarried, go back to college, have children - I would just do it with one parent. For my mother, her whole life as she knew it was destroyed that night, and she would have to rebuild an entirely new one.
4. Everyone grieves differently. Immediate family grieves different than extended family, than friends, than coworkers. Don't be angry when you are still deep in your grief and other people have dealt with the loss and moved on from it. Quite honestly, some people don't know how to talk about it, or aren't as comfortable talking about it. I'm from one of those families where a lot of family members are older - so it feels like I was ALWAYS at somebody's funeral growing up.
5. It never gets any easier, you just get numb. Or maybe you adapt is a better way to say it. It's never the same as it was when they were here, you just get an entirely new sense of normal.
Mom and Dad's first Christmas after they got married.
(My favorite photo of them!)
6. Your surviving parent will move on - and you should NEVER be angry at them for it. To be angry at them stepping up and stepping out whether with friends or a new boyfriend/girlfriend is selfish. Plain and simple. AND, on this same line, you cannot determine WHEN is the appropriate time for them to move on. Only they know that. Mom had dad's clothes out that week. Not because she was done, or didn't love him, but because that was what had to be done for her to cope with his loss. I didn't have to live in the house - she did - and that's what she needed to do to comfort herself. It was about a year or more when she went on her first date - and my brother and I weren't the slightest bit angry.
Dad sent me this photo of his first snow in Georgia. They left Florida
after he retired, and I stayed behind. He never let me forget how
much he missed me.
7. You only get ONE Daddy, but that doesn't mean that you can't have OTHER special men in your life. I have an AMAZING father-in-law. My now husband's father is also deceased, so my father-in-law is not only his "father" figure, but mine too. By the same token, whoever your surviving parent moves on with will most likely NOT be exactly like the parent you've lost and it's not fair to hold that against them.
Dad is no doubt giving my brother encouragement, or directions here.
All these years later and I can still hear the bikes, and hear them yelling.
8. It's okay to miss them.
9. It's okay to talk about them.
9. It's okay to be sad. I have days where I look at his pictures and miss him, or hear songs on the radio and cry.
10. It's okay to be angry, and by angry I mean everything from slightly annoyed to rip roaring pissed off is okay.
11. And, as my friend said, you'll be sad, and you'll be angry - especially when you see people who have their daddy's and you don't. It's all true. It's okay to embrace and feel the force of those emotions. It's NOT okay to let them dominate and destroy your life, or engage in destructive behavior. If you feel yourself spiraling into destructive behavior, or unable to deal with the grief and put it in it's place, then I must urge you to seek help through a counselor, or your church, someone else who can identify with what you are feeling.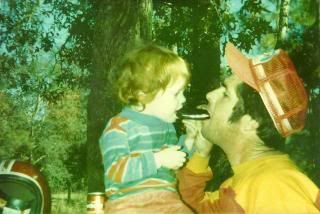 Our famous cookie photo. Daddy and I at the racetrack.
Losing my dad at 23 was tragic, and it affected me greatly. We were a very close family, and we were very involved in eachother's lives. It took time for all of us to accept his loss, and deal with the grief, but we have. Did we get it right every time? No. It's okay to stumble. There is no "Death For Dummies" book. You simply go to bed, and get up in the morning and try again.
My father told me MANY years ago when I was MUCH younger that "Death is just a normal part of life. It sucks and it hurts, but you pick up and go on". And that's what I try to do - someday's I'm better at it than others, and I'll probably spend every day of the rest of my life trying to get it right. In the meantime I have a life to live. One that he wouldn't want stopped by his sudden passing - and he would be EXTREMELY disappointed in me if he knew that I had LET his death affect me so greatly.
My Gram (Dad's Mom), and my daughter about 7 years ago.
I take comfort in the fact that whatever ailments he had on this Earth are gone. I take comfort in the fact that every time I look at my daughter - who never got to meet him - that I have a piece of him back. I take comfort in the fact that I still have a mother, a brother, a niece, and other family members to lean on, and share his memory with. I take comfort in the fact that as a Christian, I believe that I will see him again someday.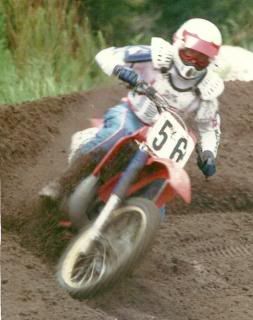 My father was as his headstone reads: "A Child Of God, Gone Home To Be With The Father".
Someday I will be too - and we will all be together then.